New Designers 2021 Graduate Spotlight: Lucy Glover
By Jamie Shackleton
23 July 2021
5 minute read
Lucy Glover
Running from the 30th June – 10th July, New Designers 2021, the UK's largest design graduate show highlights the degree work of more than 3,000 UK graduates. As part of our goal to uncover and champion the most interesting innovations and support next-gen talent, our in-house researchers attend the event annually to report on and track the trends. With projects ranging from fashion and textiles to furniture and contemporary craft to digital design, the show saw an explosion of adaptability amongst the New Designers class of 2021 who had to adjust to an entirely digitised showcase.
A prime example of talent from New Designers 2021 is our Baby & Kids graduate spotlight Lucy Glover, who studied Industrial and Product Design at Nottingham Trent University. Lucy's work taps into Trend Bible's Soul System trend, where we have highlighted the importance of sensorial experiences for Spring Summer 2022 and how this promotes social and emotional development.
Lucy's graduate showcase is a simple and intuitive system of tangible wall-mounted tiles that help to stimulate conversation, evoke emotions and ultimately create a communication-friendly environment for children. The tiles are designed to be used in two main ways; firstly as a silent communicator, where the act of selecting a mood tile communicates how they are feeling to their carer; or secondly, as a talking point to actively engage in communication with others, specifically about their emotions. Each tile has been carefully designed to link with an emotion, for example, the tile that can be connected with 'anger' has the most interactive texture allowing the most pressure to be exerted. Here we speak to Lucy about her graduate project, 'Tactiles'.  
How important do you think texture and tactility are in the digital world? 
Texture and tactility complement the constant interaction children have with technology, helping them to disconnect while stimulating better social interaction. With the increasing use of technology at home and school, tactile products can have a positive effect by creating conversation and evoking emotions. As we continue to move towards a more technology-based education, I think that regular interaction with sensory products will become even more important and integral to children's education, providing a balance between technology and human communication.
What role do you think sensory products will play in the future of education? 
Schools continue to face several communication challenges daily, with a multitude of contributing factors. Many children have speech, language and communication needs and there is an increasing number who do not speak English as their first language. As communication challenges grow, the strain on teachers to facilitate children's learning and social skills increases. As a result, there is a growing focus on mindfulness and children's mental wellbeing within primary schools and sensory products can play a key role in stimulating conversation and social interaction for children.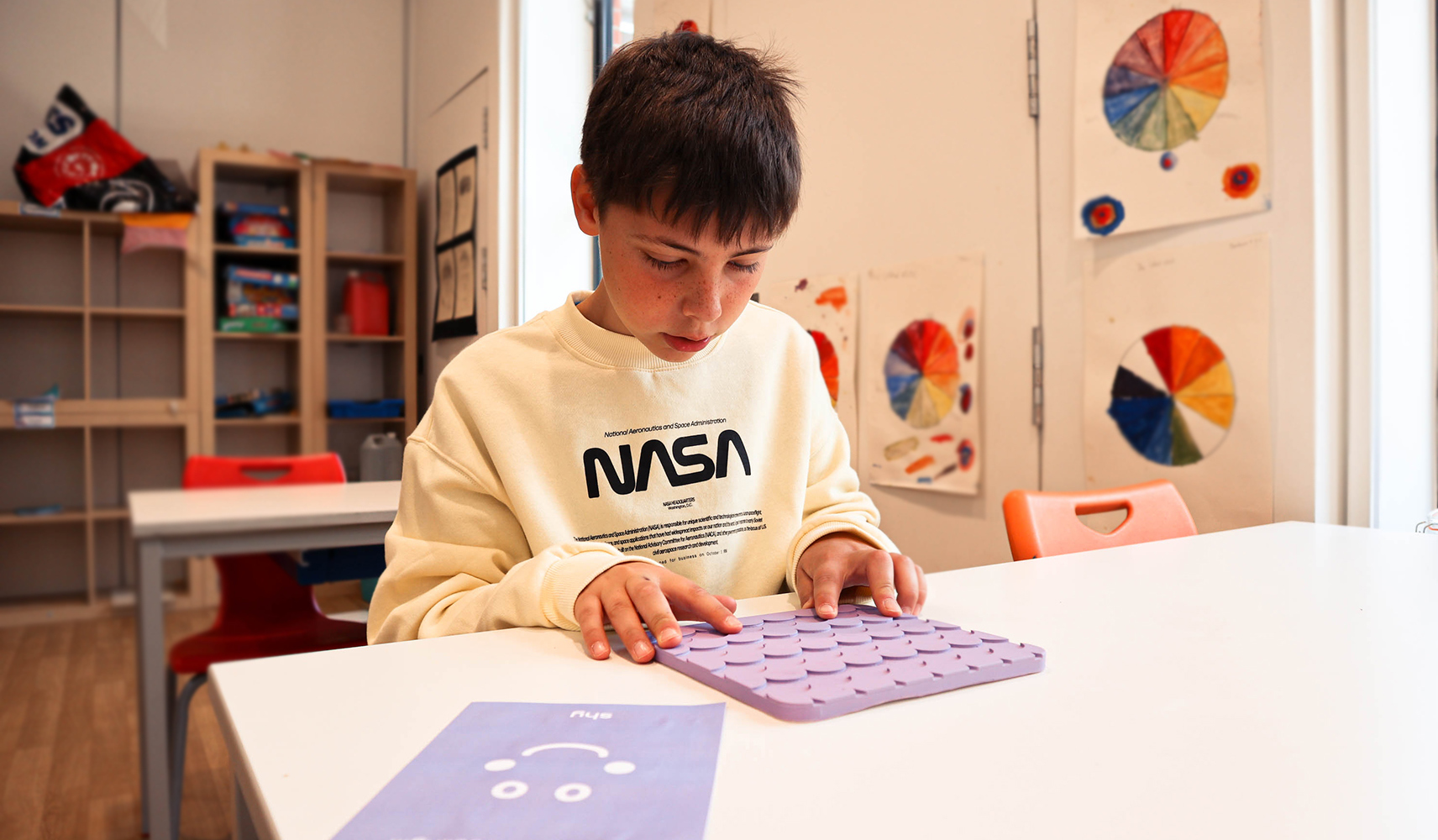 Your project encourages conversations in educational settings. Do you think similar products could facilitate family interactions in the home? 
'Tactiles' have been designed to stimulate conversations; the textures were designed and paired with a bright but slightly muted colour palette to evoke a sense of calm and relaxation. Behind every 'Tactile', there is a narrative to help prompt and promote a conversation. Any tactile and sensory interactions can help to stimulate conversation no matter age or background. The ethos and focus of Tactiles could help communication in the home and many other social settings.
Your project references the need for products that consider the user's wellbeing and offer greater emotional interaction. What do you think the future of child-focused wellness products will look like? 
With children spending an increasing number of hours on technology both in school and at home, many have become reliant upon it as their main method of communication, for example talking to their friends through game chats, but this can have a detrimental effect on both their communication skills and mental health. 'Tactiles' are one of a kind on the market and were designed with the future in mind, to help stimulate and create a communication-friendly environment. I believe future child-focused wellness products will be based around tactile and sensory thinking that help children discuss how they are feeling, drawing them away from the technological world.
Keen to learn more about the standout talent from the class of  2021? Head over to Your TrendBible to check out our show coverage and the New Designers 2021 Show Highlights report for in-depth information around key themes, creative thinkers and directional product development. You can also read part 1 of our Graduate Spotlight with Daryl Haines.