Allclusive Futures: The Power of Everyone
By Susie McCartney
30 January 2023
3 minute read
Zebedee Management, @tillynelsonphoto
A greater expectation for brands to truly champion an all-inclusive approach is highly emphasised in our 2024 Macro trend, The Power of Everyone. This approach is not about exclusive products or one-off campaigns, it's making inclusion a priority in the early stages of every design, marketing, and business process. 
As part of TrendBible's ongoing commitment to our internal Framework for Fairness initiative, set up by founder and CEO Joanna Feeley, we as a business are taking steps to interrogate and improve our ways of working to ensure this approach is also at the forefront of our minds when creating our trend forecasts.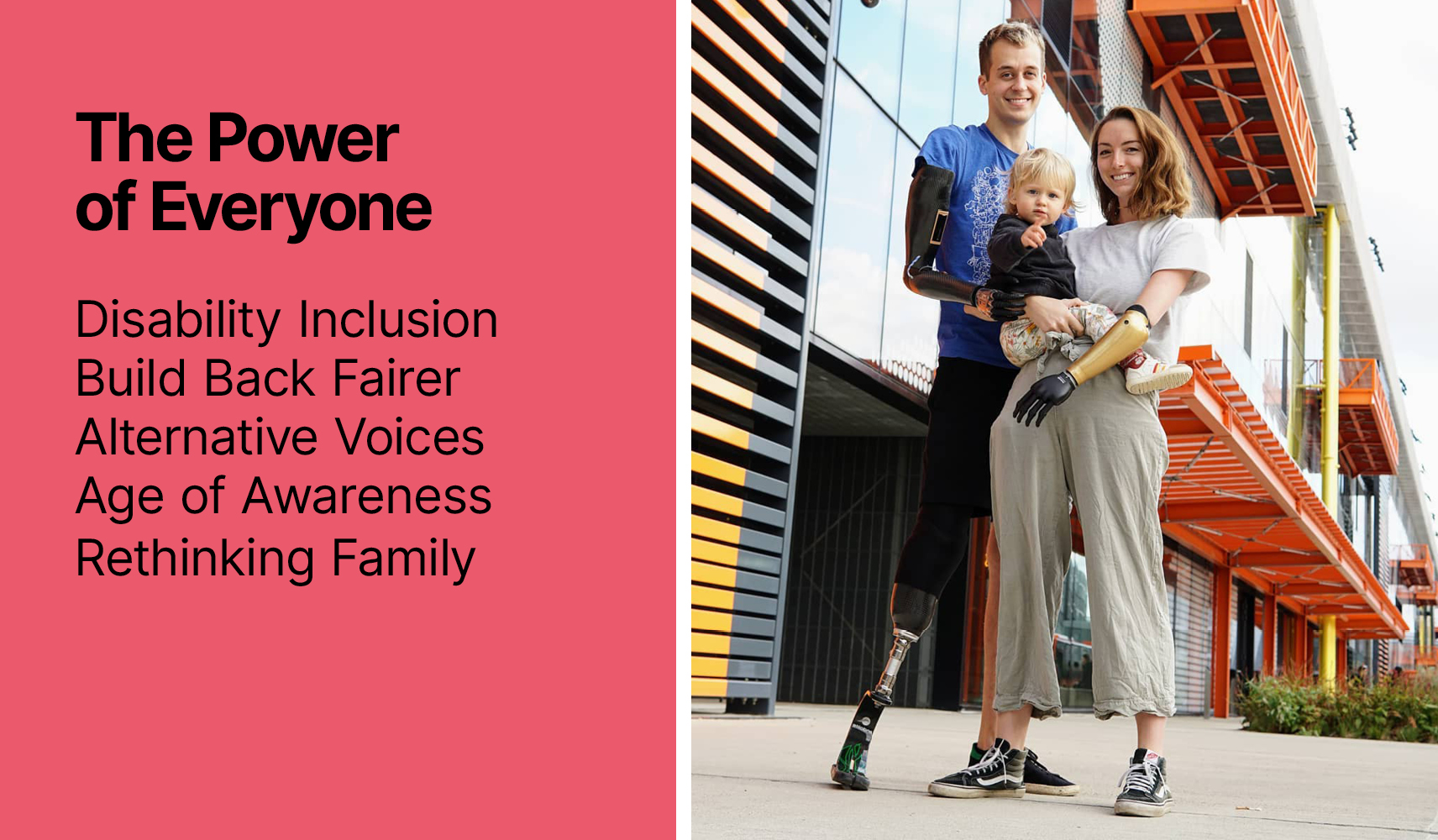 Available on our Premium Baby & Kids My Trendbible subscription, we are delighted to introduce our first-ever Allclusive Futures Trend Application, a collaboration between disability advocate and trend editor, Estela Lugo, and the in-house Baby & Kids Trend team.
A note from our editor – Estela Lugo 
"There is a new awareness of diversity emerging, one that celebrates and recognises intersectionality and considers an individual's whole identity such as gender, race or ethnicity, sexual orientation, age, and education. A person can identify as gay, Hispanic, and disabled. These groups are not mutually exclusive and must overlap to celebrate humanity's many unique crosssections and hues authentically. It can be difficult and risky for brands to "fix" or adapt products, systems, and services after they've existed, therefore there's an urgency to consider inclusion from conception to manufacturing, to marketing, and beyond.
The Baby & Kids market provides an abundance of opportunities to set this innate foundation for inclusive products during the formative years of life. Brands that step forward to establish a "new norm" will be the ones boldly recognising that "normal" does not exist and that all bodies and abilities belong."
One example is the #RadicalBeautyProject which engages with renowned fashion and art photographers all over the world. The project features only models with down's syndrome and celebrates their beauty and worth. Each shoot is undertaken with the same dedication, talent and creativity as major fashion campaigns.
Neuro-Inclusive and Disability-Diverse Opportunities
Whilst all of our trend forecasts are designed with diversity and inclusion in mind, our Allclusive Futures Trend Application takes a deeper dive into neuro-inclusive and disability-diverse opportunities within each of our Spring Summer 2024 seasonal forecasts.
Access the full Allclusive Futures Trend Application is available when you subscribe to our Premium membership at Your TrendBible. Your TrendBible is our trend subscription service designed to inspire and spark ideas, give your teams confidence in actioning trends and provide validation from across the globe.