Inter-Covid Celebrations: 2021 Autumn Trends
By Jenna Galley
12 October 2021
3 minute read
The pandemic has brought about profound changes to our daily lives, the way we celebrate and where our priorities lie. With forced isolation and cancelled plans aplenty in 2020, many families are hopeful for a more optimistic festive season this year.
Here we explore what celebration in the immediate future will look like, highlighting the 2021 Autumn trends you can expect to see as well the mindsets driving these behaviours.
Embracing 2021 Autumn trends
We've been tracking the uptake of seasonal styling in the home for a number of years. The pandemic only accelerated this trend with large quantities of people working from home, finding the time to decorate and enjoy the transition into Autumn. This shows no signs of stopping for 2021 Autumn trends as more and more householders embrace the seasons to instill a sense of joy as well as mark new beginnings.
Autumn Tablescapes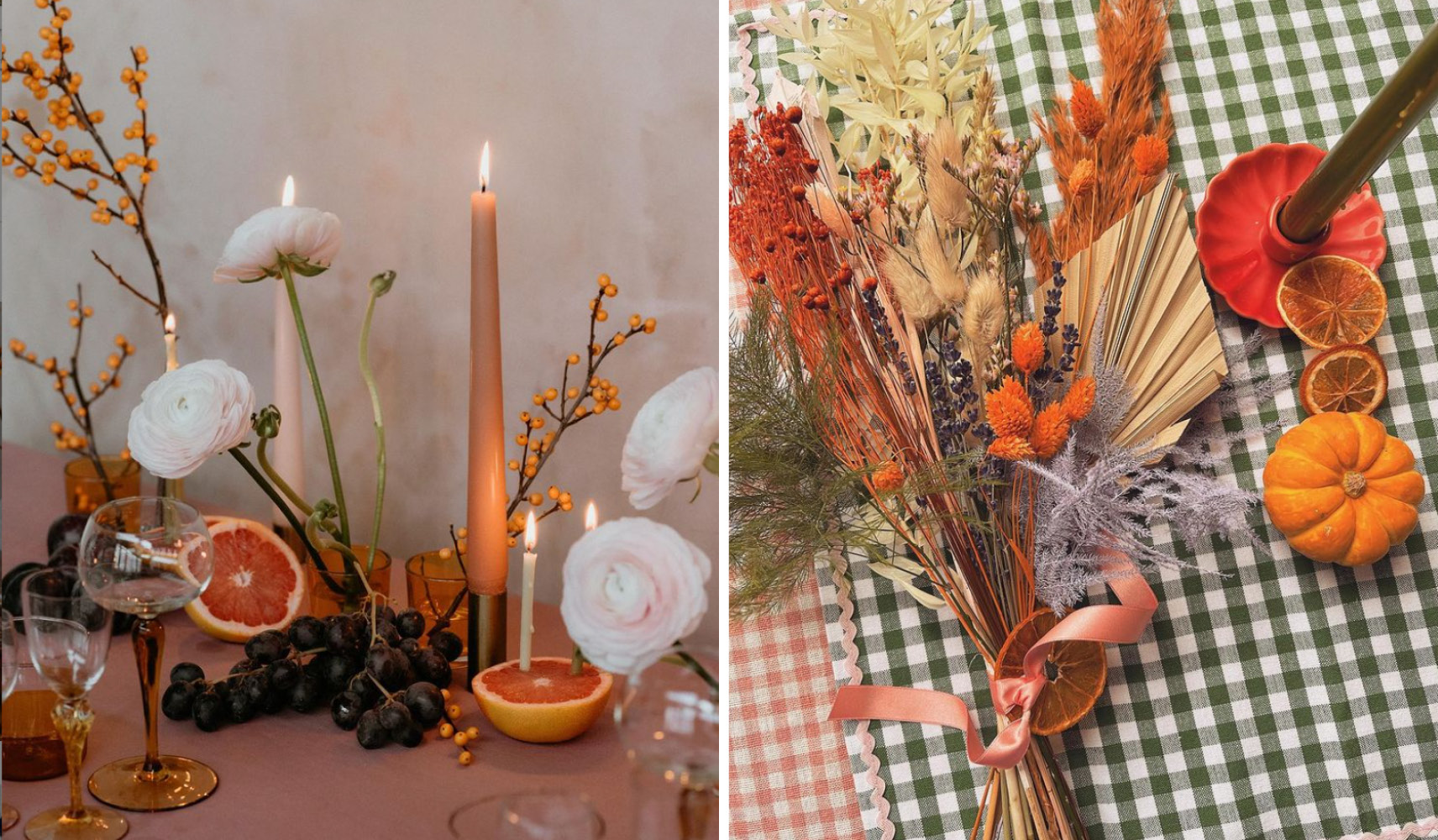 Style Your Spaces, Under the Ivy
Aswell as Autumn wreaths, pumpkins, and front door decorating which has been growing over recent years, showstopping tablescapes are now gaining momentum. Driven by influencers such as Laura Jackson, the table has become the centre of attention as individuals treasure the moments of joy that mealtimes can provide us. This is prompting a rise in tablescaping kits, subscription services, beautiful serverware and table decor with Etsy reporting a 72% rise in searches for place settings, 27% rise in tablescape decor and a 19% in napkin ring searches.
Autumnal Floral Backdrops

Lydia Millen Home, The Country Flower Company

The wider interior trend for bringing the outdoors in has rapidly grown in recent years and this is no different for the Autumn months. Householders are swapping out the fresh greenery from summer for more wild, rustic and dried alternatives, nodding to the rising trend of cottagecore. Foraged twigs, dried leaves and seasonal florals bring the warming colours of Autumn indoors, creating the ultimate cosy retreat. Floristry styling traditionally associated with weddings shifts into the home, with hanging dried installations, beautiful bouquets and decorative garlands adorning tables, fireplaces and doors.
The earthy tones and natural elements become the backdrop for all Autumn celebrations including Thanksgiving and Halloween. Rather than swapping out the decor, expect to see householders add touches along the way from fresh or faux fruit or a nod to harvest themes or decorative pumpkins and spooky spiderwebs for Halloween.
Zero-waste Halloween

Scout and Co, Odin and Parker
For many families, sustainability concerns are shifting the way they shop when it comes to celebrations. For Halloween, costumes and decor that are designed with longevity in mind are gaining the attention of conscious consumers. For children, open-ended wooden toys and fancy dress costumes subtly nod to the spooky season but are designed to appeal beyond the occasion.
Garden Gatherings

Sandy Wood, Thrift Little Mum
Long-awaited reunions with those nearest and dearest are set to shape the season. Whilst many will return to gathering indoors, making use of the outdoor living spaces we created in 2020 will also be key. Informal alfresco dining whilst getting cosy beside the firepit will replace more formal sit-down celebration meals for many families. Etsy marketplace insights for Fall 2021 reflect this with 66% YoY increase in searches for lantern lights and 57% YoY increase in searches for outdoor serving trays.
To get ahead of competitors and understand the key celebration and occasion trends for 2023 be sure to check out our brand new Future of Celebrations 2023 report, available to buy now.