The rise of the hybrid home trend
By Justine Jackson
26 March 2021
5 minute read
Scavolini
The role of the home has dramatically shifted over the last 12 months, accelerating nascent consumer demands into fully fledged interior trends. One of the most impactful trends for home builders, furniture designers and the built environment industry is the rise of the Hybrid Home.
Creating Spaces for Life
The home now needs to function for multiple different activities which would previously have been accommodated in commercial spaces. With many householders now working, cooking, exercising and relaxing in one space, residential interiors need to cater to these new demands. Having a spare bedroom, reserved for 'once in a blue moon' guests suddenly feels like a frivolous waste of space that could be put to better daily use. Expect to see householders take inspiration from restaurants, cafes, gyms, spas and offices, to recreate a similar experience at home.
Prioritising Wellness
With mental health problems exacerbated by the pandemic, the importance of exercise and mindfulness has never been so prominent. According to The New Consumer and Coefficient Capital, 76% of people have tried working out at home during the pandemic—and crucially, 66% prefer it. Among millennials, the number is even higher: 82% made the switch and 81% like it more".[Fast Company] Expect to see a move away from the makeshift home gyms in garages and spare bedrooms to a more integrated, considered and stylised approach. Design solutions which make exercise equipment easily accessible and blend seamlessly into interiors will become pivotal to daily healthcare routines in the future.
A Room of Ones Own
Consumers are indulging in their home offices and hobbies by investing time and money into adapting their spare rooms to suit their needs. Whether it be a fully sound proofed recording studio, a high-tech home office, or a well-equipped sewing room. Acoustic foam providers, efoam, confirm that they have seen a dramatic increase of over 240% in sales in 2020. A demand for sound absorbing qualities is gaining importance as most homes have had to adapt to become offices too. Having a sound insulated room that can cancel out noise and distractions for online meetings and phone calls will be a priority, especially as we expect our homes to continue to multifunction in this way beyond lockdown. @Tierneyterracelocation have set up their home music studio using sound absorption panels, acoustic treatment in the walls and triple glazed windows. Expect to see consumers put more thought and consideration into extremely well-designed office/hobby spaces in the home.
Café at Home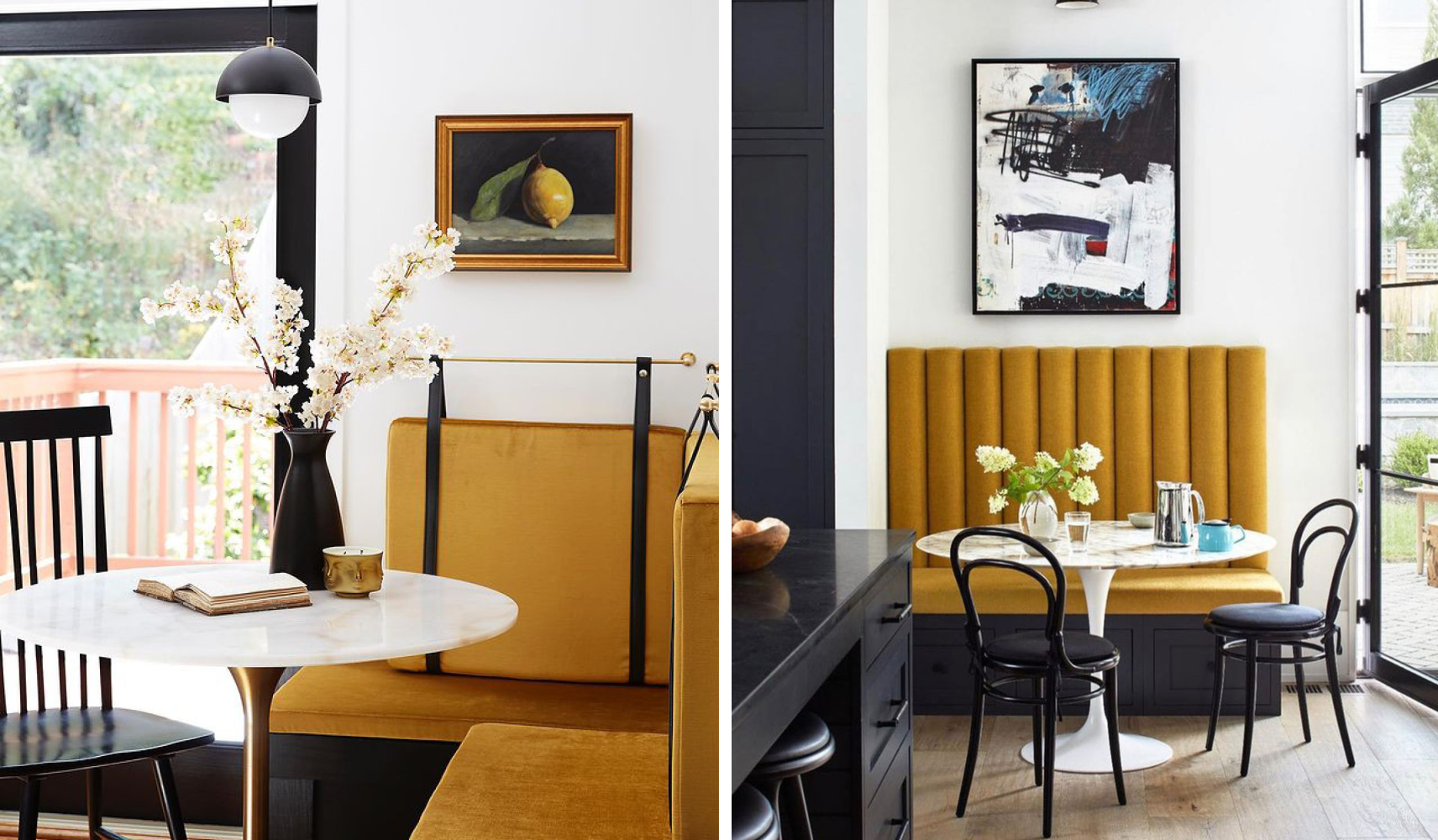 Over the past year, consumers have had more time to get creative in the kitchen. Pinterest is reporting a 105% year-on-year increase in searches for gourmet food plating and 130% year-on-year increase in searches for bread art. However, fancy dinners and baking are not the only occasions needing to be accommodated. With fewer householders commuting to work, the ritual morning coffee or Fika routine becomes a precious at-home experience. Expect to see café inspired breakfast nooks with banquette seating, beautifully styled barista stations and elevated crockery all helping to create these special moments for pause and reflection. More specialist kitchen tools too will allow bakers to show off their new skills and emulate the café experience at home.
How will these behaviours impact the future of life at home when pandemic restrictions ease?
As lockdowns lift and venturing outside becomes possible again, we'll obviously see a gradual return to third spaces, however, we expect that some consumer behaviours will not be so elastic; many will prefer the convenience and benefits of the new daily routines and rituals they have created for themselves within the home. Consumers will look to embed their hobbies, interests and work activities in the home by using a more considered, seamless and integrated approach to design. 
For more advice on how these future consumer behaviours can translate into opportunities for the built environment or home industry, contact us at [email protected] or find out more about our consultancy services.