London Design Festival 2023: Our Event Highlights
By Susie McCartney
13 October 2023
3 minute read
Christopher De Vos Caballero and Peter Pilotto
London Design Festival returned to the UK capital this September, with a celebration of design, creativity and innovation – featuring a programme of over 200 events, exhibitions and installations.
This year's event saw the much-anticipated return of London Design Fair at the Truman Brewery – the largest commercial exhibition of international design, brands and makers at the festival. It's also the home of LDNdesign Talks Stage, where TrendBible presented a talk on Reimagined Living Spaces. Material Matters at London's OXO Tower was another key exhibition, showcasing innovative materials across the industry and important sustainability drivers.
Available now on our trend subscription platform, My TrendBible, our London Design Festival 2023 premium report takes an overarching look at the show. In this article, we highlight 3 design takeaways, innovative makers and key messaging from the event. 
The Power of Collaboration
Collaboration, working together and a sense of creative community emerged as a theme at this year's London Design Festival, with many established designers partnering with up-and-coming makers, brands and venues. A number of big names in design sought to champion smaller brands and underrepresented groups, aiming to break down the barriers often faced by new designers within the industry.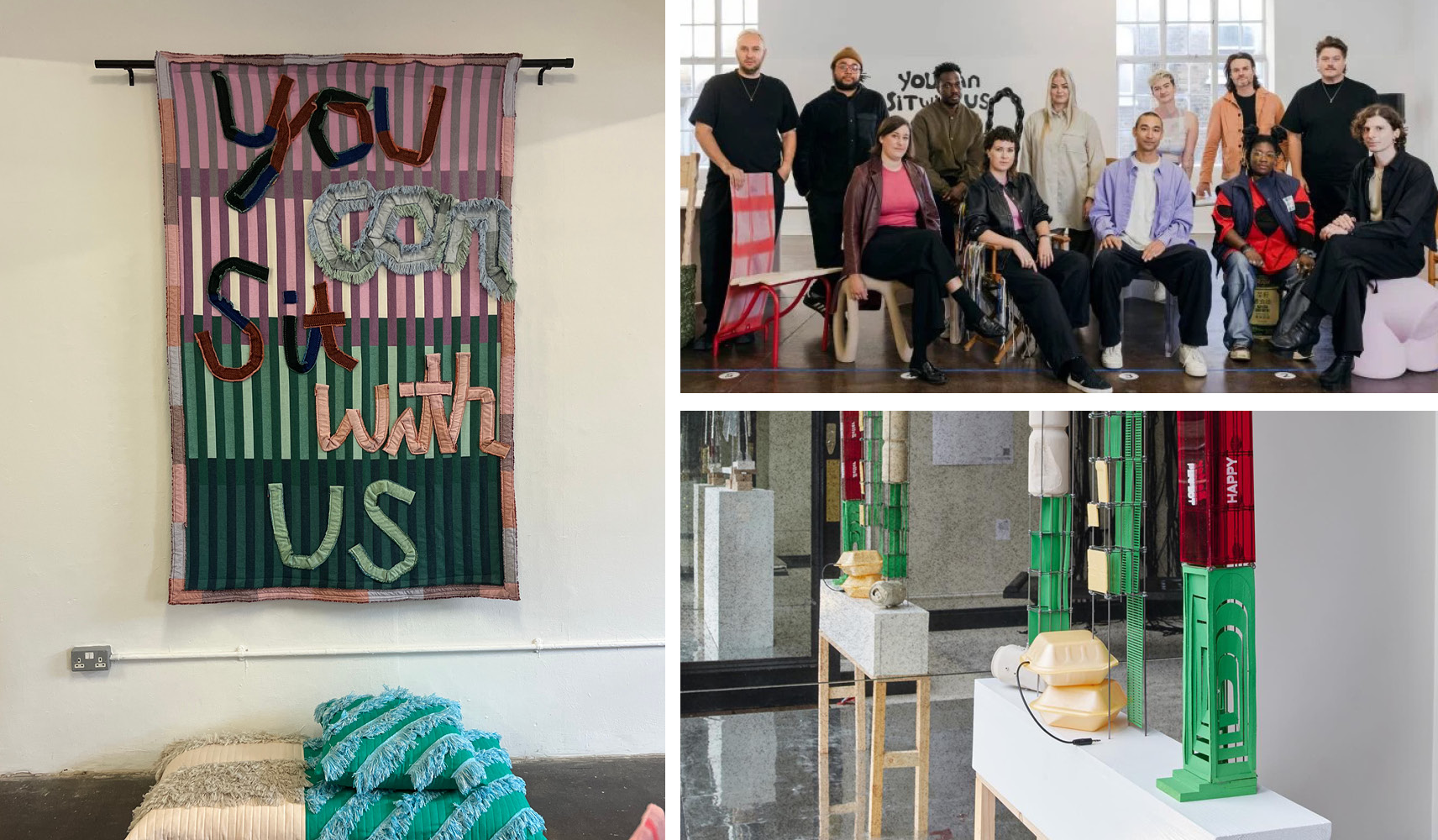 Design duo 2LG Studio's presentation at London Design Fair was titled 'You CAN Sit With Us'. Showcasing a collection of pieces that "re-imagine existing connections in the design world", 2LG Studio collaborated with a diverse mix of emerging designers such as Granite & Smoke, Bence Magyarlaki and Pulp Sculptuur – inviting them to bring their unique voices together with a seat at the table and to break down the barriers of the industry.
Powershift by Poor Collective (Power Out of Restriction) focused on providing a platform for the next generation of designers and connecting them to a wider audience by giving them a physical space to exhibit their work. The display celebrated collective power, and how power can shift when people work together.
Repair & Repurpose
Conversations around the importance of repair were prominent across the year's London Design Festival, as designers continue to seek more regenerative design processes and ways to extend the lifecycle of products. As explored in our Repair: A Modern Mending Movement report, both brands and consumers are placing focus on products that are easily repairable, avoiding throwaway culture and allowing consumers to keep things for longer. There was also a focus on repurposing across the event, as products are given a new function or purpose in order to extend the lifecycle.
Architect Daisuke Motogi's 'Hackability Of The Stool' showcased 100 alternative and imaginative ideas of how a stool can be used – including a chessboard, a pinboard and a mirror. The showcase highlighted the versatility of simple design, and how products can be repurposed beyond their original function.
Maximal Dopamine
Joyful, dopamine-inducing design continues to add impact across industry events, as maximalist visuals are eye-catching and mood-boosting. Bold and bright colour ways evolve the minimalist palettes of past seasons, as consumers seek happy and energetic use of colour and pattern across home and interior spaces.
2LG's collaboration with L.Ercolani was a visual feast, with dopamine bright colour stained wood adding a playful and mood-boosting feel to chairs, tables and storage.
The full London Design Festival 2023 report is available when you subscribe to our Premium membership at My TrendBible. My TrendBible is our trend subscription service designed to inspire and spark ideas, give your teams confidence in actioning trends and provide validation from across the globe.